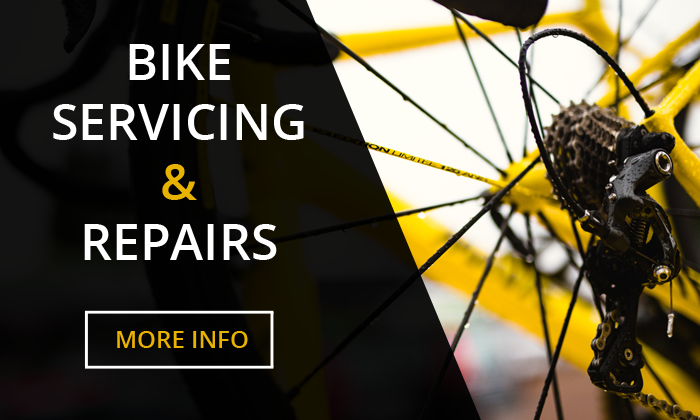 Booking Form
Booking your bike in isn't essential, but it does help us plan our working day. If you need your bike turned around in a specified timescale it's always best to book it in using the form below.
If you've some urgent work needs doing get the bike in to us asap and we'll do our best to sort things while you wait.
What needs doing?
Select the service package or task you need from the drop down list.
If you're not sure what needs doing or can't see it listed, just tell us in the text box at the end of the form.
More than Servicing

We don't just fix and service bikes. We are happy to fit mail order parts, build internet bought bikes .
Need a courtesy bike? No problem, we have a fleet of hire bikes at very affordable rates.
Our Service Centre is open 5 days a week, so please book in advance. All brands are serviced and repaired with most brands being catered for. We have three levels of service which are outlined below. Please contact our shop to see which one is most suited to your needs.
1.Bronze service (from €20)
This is a safety check for your or your child's bike. The operation of your gears and brakes will be checked and any adjustments will be made as required to ensure your bike is in roadworthy condition before you cycle off.
2. Silver service (from €50)
This will include everything in the Basic Check plus all of the moving parts of your bike are checked for operation and condition. The bottom bracket, headset, hubs and transmission are all checked and adjusted as required. Wheels are trued, tile pressure checked and all nuts and bolts are checked.
3. Gold service (from €80)
Includes everything in the Intermediate Service, but we also strip the hubs, headset, and bottom bracket, cleaning and re-greasing as we go. The drive chain is cleaned and lubed. All cables are replaced. Braking surfaces are de-greased and inspected for wear. Quick release skewers and seat pin are cleaned and re-greased
PLEASE NOTE
ALL UNCOLLECTED REPAIRS WILL BE DISPOSED OF WITHOUT EXCEPTION AFTER 60 DAYS TO COVER THE COST OF REPAIR AND STORAGE .